From the SciFi Channel's
SciFi Weekly
:
(Please follow the link for the complete SciFi Weekly interview.)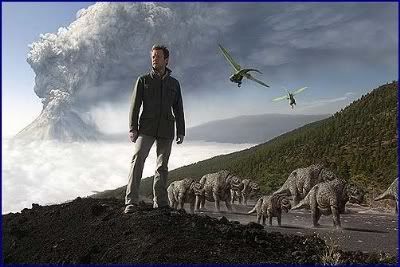 PRIMEVAL: DOUG HENSHALL, TIM HAINES, ADRIAN HODGES
Go behind the scenes with the cast and crew of the imported blockbuster British series Primeval as they explain how they transformed the entire U.K. into Jurassic Park, and find out what made them say, "We don't have anyone kissing our dinosaurs."
[
NOTE
: Primeval premieres on BBC America Saturday August 9 '08 at 9pm. For more infomation, please visit the BBC America
Primeval website
.]
August 04, 2008
The star and creators of the hit British family dinosaur series talk about the show finally jumping the pond to U.S. audiences on BBC America
By Mike Szymanski
Will a creature jump out of the pool? Doug Henshall ("Dougie" to his pals) remains a safe distance out of the sun and away from the edge of the pool at the Beverly Hills Hilton during a recent interview. He notes that in his popular British show Primeval, a prehistoric monster of some sort could jump out of the pool and gobble up a few of the sunbathers, and after three seasons of filming the show in the United Kingdom, it keeps him a bit on the edge.
In an interview with SCI FI Weekly, Henshall is joined by co-creators Tim Haines and Adrian Hodges. Haines is the guy behind the factual series Walking With Dinosaurs, which scientifically re-creates how dinosaurs walked, looked and sounded. Hodges is now working on a remake of a post-apocalyptic remake of a 1970s TV series called Survivors, based on the SF novel by Terry Nation and scheduled to be broadcast this fall.
The trio said they hope that Primeval will catch on quickly with U.S. audiences when it kicks off on Aug. 9. Also starring Lucy Brown and James Murray, the series follows a ragtag team of scientists led by Henshall's evolutionary zoologist character Dr. Nick Cutter as they battle creatures that come through these unexplained anomalies that are ripping holes in the fabric of time.
One problem has been that both in the U.K. and the U.S., people are comparing the show, and Henshall's character, to a certain "Doctor."
Douglas Henshall, how have you been avoiding the Doctor Who comparisons during interviews here at the Television Critics Association press tour?
Doug Henshall: Well, of course Doctor Who is enormously popular where I'm from, and it's becoming known here, too. And, it's the one question I've been getting asked about the most—people comparing the show to that Doctor, and for that reason I've been comparing it to the American show that people would get, The A-Team, because it's an ensemble piece. I was mainly trying to avoid the comparison of the show we don't want to mention, and so I picked something very different, and our show is more of an ensemble like that show was. In our show our characters all have different skills and need to work together. That's how the shows are alike, we each come from different backgrounds to work together.
Adrian Hodges and Tim Haines, you have now included as one of the new writers Paul Cornell, who not only wrote for Doctor Who but also wrote more than a dozen novels about Doctor Who and his spinoff companion Bernice Summerfield. Is there any chance a Doctor Who character could pop in on the world of Primeval?

Tim Haines: No, absolutely not will we have a Doctor Who character pop in on Primeval. They have very different worlds and realities—
Adrian Hodges: Anything can happen on Doctor Who—
Haines: That's right, and the world of Primeval is more reality-based.
Hodges: Now, that doesn't mean there were a few times that we were tempted to sneak in a few sly references, like having someone say, "There's the doctor," and the "Doctor who?" But no, every time I was tempted to even put in a vague Who reference, I stopped myself. The worlds are very different. ... At one point we considered a sly Doctor reference when someone got angry at another character and threw a box set of Doctor Who at them, but we thought not.
**snippage**