From
The SciFi Guys
: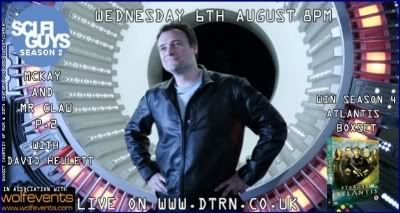 MCKAY AND MR CLAW PART TWO!! THIS WEDNESDAY ONLY ON THE SCI FI GUYS!
Following on from last weeks trip to the Pegasus galaxy, the Sci Fi Guys return this week with the second part (Courtesy of
http://www.wolfevents.com
) of the interview with special guest David Hewlett, Doctor Rodney McKay from Stargate Atlantis.
In the second and final part of this interview, David talks to Stuart amongst many things about what doing the role for five years has taught him and also what British show other than Doctor Who, he would like to work on.
As well as this there will be the announcement of the winners of the Stargate Atlantis Season 4 DVD box set competition courtesy of 20th Century Fox Home Entertainment and MGM. To be in with your chance to win all you need to do is visit
http://www.dtrn.co.uk
and click on the competition banner to view the competition page and then choose a picture from the ones given and email your caption to competitions [at] dtrn.co.uk. Entries will be accepted up until 8:45BST on 5th August.
Stuart will also be joined this week by the new The Sci Fi Guys co-host to discuss as usual all the latest news and reviews from the world of Sci Fi, Cult TV, Movies, Anime, Comics and much more! Who will it be and what implications will this new partnership have on the future of The Sci Fi Guys and indeed DTRN? The only place to find this out is this Wednesday 6th August from 8pm on
http://www.dtrn.co.uk