From
GateWorld
:
(Please follow the link to listen/download the audio interview and/or read the transcript.)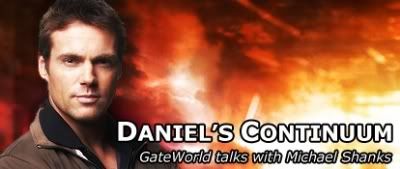 Daniel's Continuum
GateWorld talks with Michael Shanks
Life after Stargate SG-1 cancellation goes on for Dr. Daniel Jackson, as Michael Shanks returns to the role in this year's two DVD movies -- Stargate: The Ark of Truth and Stargate: Continuum. Now that both films are available, we wanted to catch up with the actor once again to get his thoughts on these two projects.
GateWorld's Chad Colvin actually sat down with Michael in April, just hours after he had sat down to watch Continuum with the cast, crew, and a handful of fans from Creation Entertainment's Vancouver Stargate convention. In the interview he talks about both DVD movies and Daniel's role in those stories, and also gives us a status update on Rage of Angels, his upcoming project with former co-star Christopher Judge.
GateWorld's interview with Michael runs 8 minutes. Listen online at your leisure, download it to your MP3 player, or subscribe to the iTunes podcast. The full interview is also transcribed [at the link above]!
A brief excerpt:
GW: If you could give one message to Stargate fans, what would it be?

MS: Thank you! Thank you for staying with us. Seeing that movie and being with fans of the franchise in that theatre. Seeing the reactions to it shows that there still is the love for those characters. That there still is a future for it. I think with "Ark of Truth" people went "Oh…okay…that's it. I guess we're done telling SG-1 stories now," and seeing this story that way. Seeing the reactions of people showed that we still very much have a future in this. And it's been a lovely ride. The fans are the reason we do it, and without them, we wouldn't be anything. So, thank you.